The future starts here
---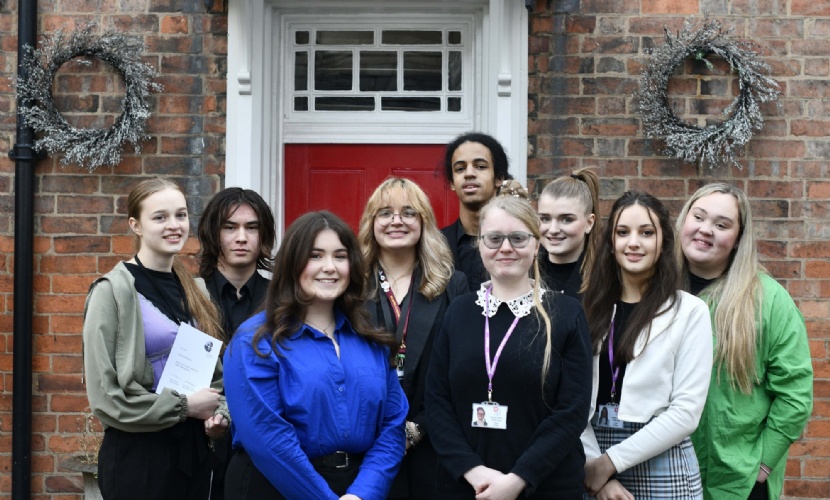 On Thursday 8 December 2022 students across our sixth forms met at the Guildhall in Leicester for the sixth form prize final.
It was the first time we have been able to gather in-person for this competition since 2019, with virtual versions taking place for 2020 and 2021. We were excited to hear from our public speaking finalists, and to discover the winners of both our public speaking and essay prize competitions.
We kicked off the Essay Prize with writing workshops delivered by fellows from the Royal Literary Fund in all of our sixth forms. We received a record number of entries to our prizes this year: 65 students entered, invited to write 1,500 words on a subject of their choice. The entries addressed a range of topics such as feminism, tax evasion, essays on film and literature, governmental failures, medical negligence and mistreatment, and debates of who is the best footballer of all time. There were also poignant personal essays, including pieces of travel writing, experiences of grief, loss, and absent parents, and of challenges in the face of today's expectations and beauty standards. Each of our entrants received a 30-minute tutorial from a professional writer and the opportunity to submit a second draft, before a shortlist of 14 essays was announced. These writers submitted a third and final draft, with the winner being announced at the competition final.
Whilst the students entering the essay prize had free rein, each of our public speaking entrants spoke for 10 minutes on our 2022 theme 'The future starts here'. All students entering received a 30-minute coaching session in the run-up to the day, where at least one student from each sixth form entering was selected. For the first time, we had 8 finalists. We heard from Eadie-Rose Clarke (Weavers), Jessica Hackett (Abbeyfield), Pippa Walsh (Wrenn), Wren Crozier (Hart), Grace Illingworth (Hart), Louisa Gregory (Wrenn), Yanik Retmanski (Ash Green) and Penny Devereux (Weavers). Each student approached the theme in a different way, including speeches on being at a crossroads deciding on future career pathways, on how our use of language is changing over time, on the dangers of groupthink and being afraid of standing out from the crowd, and considerations of whether we will have a future if immediate action isn't taken to save the planet.
After hearing from our 8 finalists, it was time for our judges to decide on the winner. Our 2022 Public Speaking Prize judges were Imogen Butler-Cole, theatre maker, business trainer, public speaker and activist, Kirsty Dias, Director at international design company PriestmanGoode, Nicole McCartney, Creative Education Trust Director of Education and Amy Stafford, Ash Green alum and winner of the 2019 Public Speaking Prize.
The judges were very impressed by the quality of the speeches and their excellent delivery by our finalists. Our judges specially commended Jessica Hackett from Abbeyfield for her erudite exploration of the power of language. However, our 2022 winner was Penny Devereux from Weavers for her incredibly powerful speech on how she's learnt to embrace life following the loss of a parent. Giving feedback on behalf of the panel, Kirsty Dias praised Penny for her unique take on the theme and "a great example of an emotional speech that was completely controlled". Marc Jordon, Chief Executive, then announced the winner of our Essay Prize. There were several special commendations following a very tough decision for our essay judges. However, the winner was Christopher White from Abbeyfield for his original, lively and provocative piece on 'Artificial Intelligence: Will humans become obsolete?'
Congratulations to the finalists and thank you to all the school leads who supported their students to participate.