Our first debate prize
---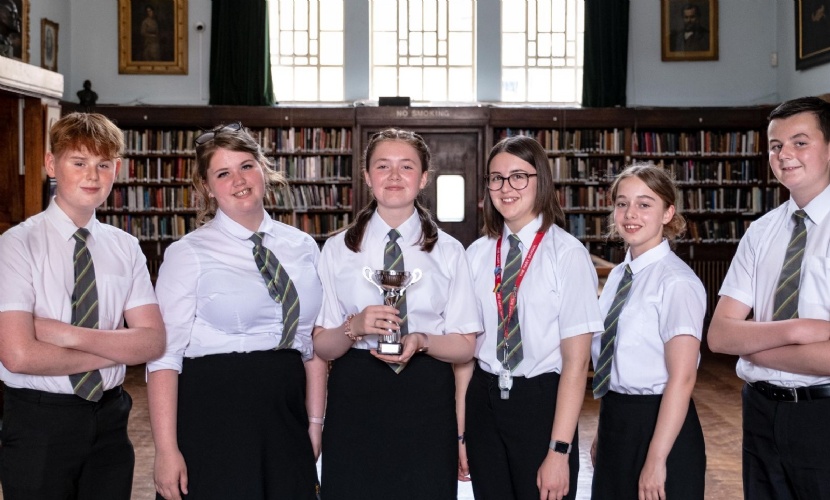 Find out about Creative Education Trust's first debate competition, involving year 9 students across our schools.
This year Creative Education Trust held the first cross-Trust debating competition, involving Abbeyfield, Lynn Grove, Milton Keynes, Ellis Guilford, Hart, Thistley Hough and Weavers.
Before the competition started, each of our participating schools ran four 'Introduction to Debate' classes for their year 9 students. The interactive sessions inspired by Debate Mate introduced over 1000 students to advocacy, debate, and key public speaking skills. Students could then put themselves forward to represent their schools, with 6 from each school being invited to form a team.
The competition involved debate coaching for every team from barristers through our partnership with the Kalisher Trust, two virtual rounds of debates, and a final event at Conway Hall in London in collaboration with Debate Mate. Students debated a range of topics, including whether humans should focus on building a civilisation on another planet rather than fixing the problems on earth, whether AI should make political decisions, and whether historical artefacts should be returned to their country of origin.
Following the virtual sessions our teams were excited to meet each other in person on 13 July. Before the debates began students heard from Marc Jordan, Chief Executive of Creative Education Trust, and the Rt Hon Sir Robert Buckland KBE QC MP. Sir Robert emphasised that students should not let self-doubt be a barrier and encouraged students to consider all the options open to them for their futures. Staff from Creative Education Trust and Debate Mate then enjoyed hearing from all teams across the day. Everyone was impressed by the quality of debate, and by how much students had improved over the course of the competition.
The two top-scoring teams, Thistley Hough and Hart, competed in one final debate to determine the winner of our first debate prize. The motion was 'This house believes we should prioritise academic attainment over creativity in schools'. Congratulations to team Hart for winning the competition, to our runners-up Thistley Hough, and to all teams for representing their schools so brilliantly. The competition was photographed by a team of Key Stage 4 photographers, coached by professional photographer Becky Mursell. We look forward to sharing some of their images in our printed autumn edition of Connected magazine.
Thank you so much to all the students who took part and the teachers who supported them, to our student photographers, to Sir Robert Buckland QC MP for being our guest speaker, and to our competition partners Kalisher Trust and Debate Mate.