World-changing ideas!
---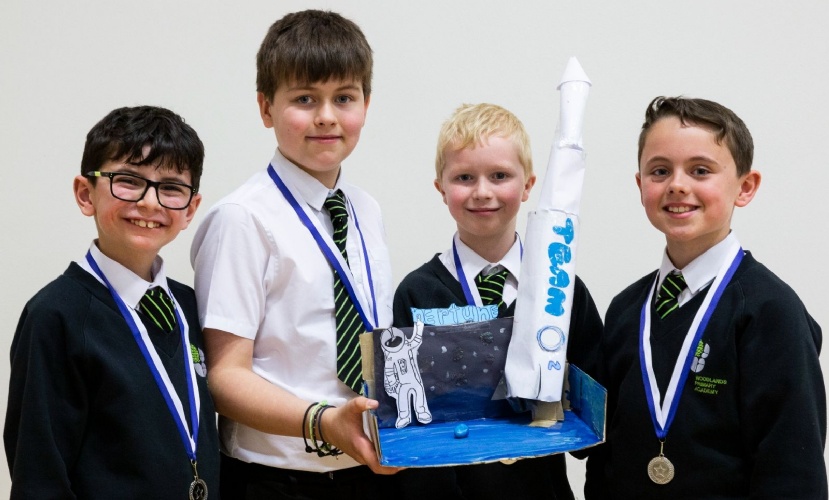 Our five primary schools meet for one of the cross-Trust highlights, the Day of Change.
On 23 March 2022, 15 teams across our five primaries gathered at The Milton Keynes Academy for one of the highlights of the Creative Education Trust annual calendar – the Day of Change. This was our fourth competition in collaboration with 8billionideas. Everyone was excited to be back together in person again!
The range of proposals provided a fantastic insight into the concerns of year 5. First prize went to Woodlands for their carbon-neutral 02 Rocket, which converts water to rocket fuel to ensure space travel is environmentally friendly. Second place went to Wroughton for iFridge, a smart fridge which lets you know when your food is out of date, and Happy Hologram by Harpfield, which projects students into the classroom when they're unable to attend school, took third place.
Queen Eleanor were awarded 'Best Stall' for Healthy Eat, an app which helps you to change your diet and lifestyle. Sleeping Beauty by Woodlands won 'Best Poster' for their device and app to aid sleep, whilst Robodog by Wroughton took 'Best Prototype' for the medical bot that monitors health and the environment to protect the user from illness and accidents.
Congratulations to all the finalists! Thank you to all our judges for this year's competition - Nade Ward, founder of Socker Share, Gwayne Webb, Director of Learning and Teaching, Kate Ward, Head of Programmes, Gordon Farquhar, Principal of The Milton Keynes Academy and Jo Oakley from 8billionideas. Our judges were impressed by the quality of the research carried out by pupils, and by the hard work put in by all our finalists. It's clear that our pupils have what it takes to make a positive change on the world, and we can't wait to see where it takes them.
-
This blog is an excerpt from an article published in issue 28 of Connected, the magazine for Creative Education Trust schools. Read more on the Day of Change here: https://knowledgeconnected.org.uk/Change22