Shakespeare 11 X 11
---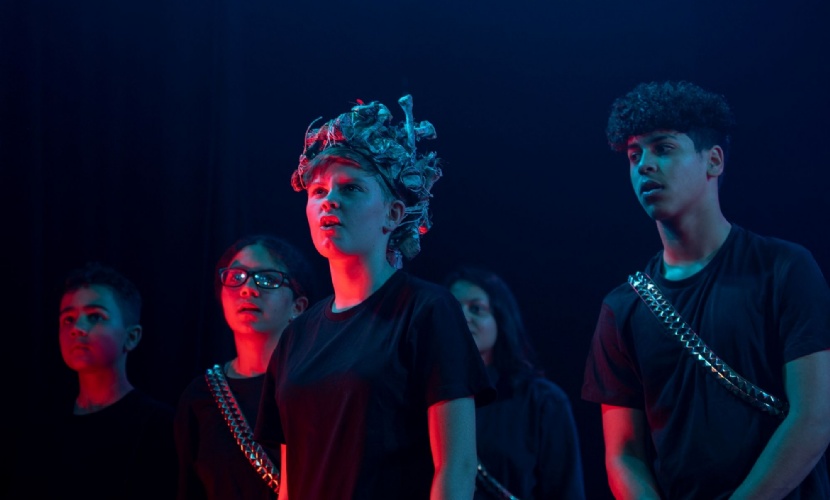 Sixth year of CET Shakespeare festival sees 200 students take to the stage over two days.
In a bumper edition of the Days of Performance, eleven schools performed eleven Shakespeare plays in a tight schedule of back-to-back performances and rehearsals over two days. Hosted by Abbeyfield school with impeccable technical support from Richard Walker-Glen and operational direction from Rachael Dedman, the event was an exciting opportunity for students to witness and discuss the creative work of the other schools.
The Milton Keynes Academy opened day one with an austere Julius Caesar enriched with movement and gesture. Thistley Hough's version of the political drama the following day was a showcase of outstanding acting talent and exemplary diction. In Bulwell's Romeo and Juliet, comedy set the star-crossed lovers' fateful end in stark relief; while Wrenn, appearing for the first time, performed the same play with elegance and clarity in graphic monochrome. Ellis Guilford, also on stage for the first time alongside other Creative Education Trust schools, treated us to an horrifying Macbeth with memorable scenes of marital strife as Lady Macbeth lost patience with her husband. Lynn Grove's Scottish play was fast-paced, tense storytelling in the classic mode, with very good vocal projection and resourceful use of a small number of original props. Abbeyfield, the home company, took on the grandest tragedy of all, in a heart-rending King Lear, uncovering the extraordinary talent of the cast member who played Edgar/Poor Tom. The Hart School's Hamlet brought day one to a close with a grey, dystopian world laid waste; while in total contrast, Weavers' treatment of Hamlet teased the audience with cleverly interwoven classic drama and school rehearsal room commentary – in effect, a play within a play within another play. In Ash Green's Taming of the Shrew, we watched the rebel Kate laying down her spray can weaponry in apparent submission, but actually claiming the moral high ground over the abusive Petruchio. Caister's Tempest closed the festival in a warm atmosphere of comedy, philosophy and enchantment.
First conceived for Creative Education Trust by HMDT Music in 2014, the annual Shakespeare festival has become a treasured feature of the calendar. Visiting artists recruited by HMDT Music work with each school's company on voice and text, and on production design. When asked to sum up the experience in a single word, four among the 340 participants offered "unique", "dramatic", "collaborative" and "stressful in a good way"! The growing number of member schools have nudged each other's productions ever upward: the 2019 festival has set expectations higher than ever before. Thank you to all our directors, performers, designers and production teams for a wonderful couple of days.
Image at top: Ellis Guilford School students in Macbeth