People, Get Ready
---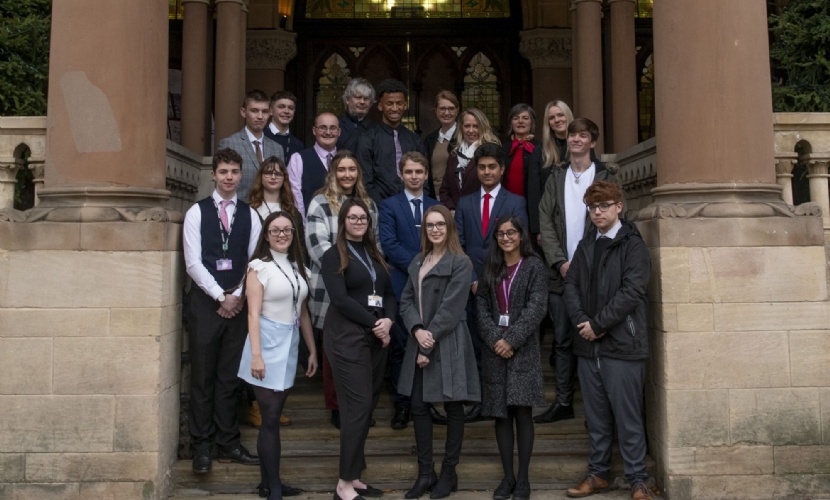 Sixteen finalists competed for Creative Education Trust's 2019 sixth form prizes in public-speaking and essay writing.
In the Courtroom of Northampton Guildhall, surrounded by statuary and tableaux glorifying centuries of civic virtue, finalists in the public-speaking competition braced the audience for the challenges facing society and individuals in the 21st century. This year's theme, "People, Get Ready", drew thoughtful commentary, forceful argument and ingenious language in seven ten-minute speeches addressing social unity, knife crime, climate change, the empowerment of women, the loss of childhood, the dystopian threat of artificial intelligence and the responsible exercise of democratic rights.
A panel of three experts interrogated and encouraged each speaker in a 5-minute Q&A. Kirsty Dias, Managing Director of the industrial design company Priestman Goode (and a member of Creative Education Trust's Education Advisory Group) and Nicole McCartney, Director of Secondary Education, were joined by our guest panellist Jim Carroll. With years of senior experience in one of Britain's world-leading advertising agencies, BBH, Jim delivered his own thoughts on public speaking in four carefully chosen examples from his personal life and professional experience. He spoke of distilling strong feelings into words and phrases as a curative process in his teenage years; of a young colleague who needed to learn that persuading others was as important as being right; of making yourself the centre of attention by understanding your audience; and of his advice on leadership: "Establish what you're good at, and do it in a bigger, bolder way".
The judges deliberated the strengths of each speaker. Zane Foloronso (Bulwell) drew praise for his charisma, urgent language and fantastic engagement of the audience and Eddie Jenkins (The Hart School) for the near perfect structure, clever associative jokes and light-handed elegance of his speech. Both were appearing for the second year in the competition, as was our 2019 winner, Amy Stafford (Ash Green) for her speech urging her generation not simply to vote, but to get ready to vote by forswearing, at least for some of the time, the constant distraction of celebrity gossip and the seductive simplicity of political polarisation. Having enriched her speech with references to Jane Eyre, Adam Smith's Wealth of Nations and I'm A Celebrity Get Me Out of Here, Amy handled the Q&A with fluency, knowledge and remarkable comic timing.
Our essay competition is a rare chance for writers to collect individualised attention and feedback from a writing tutor and a panel of expert judges in a highly structured process: professor of classics Dr Jonathan Katz, science writer and curator Hugh Aldersey Williams, and Kate Bassett, literary adviser to the Chichester Festival Theatre. This year's essay themes - set by the students themselves - addressed identity and mental health in a modernising, digital age; and the present and past structures of society and politics. Paige Atherton's essay on storytelling in Celtic culture was praised for the range and depth of knowledge it displayed, and her firm grasp of the conventions of academic writing. Alife Mulligan's essay about aniticipating the near death of a loved one stood out as an engaging and self-reflective piece of creative writing. The 2019 prize was awarded to Matthew Tobbutt for alluringly titled piece "The Journey of a Broken Brain", an eloquent and affecting investigation of clinical depression.
Congratulations to all our shortlisted writers and speakers, and bravo to everyone who entered the game!