Young Poets Society
---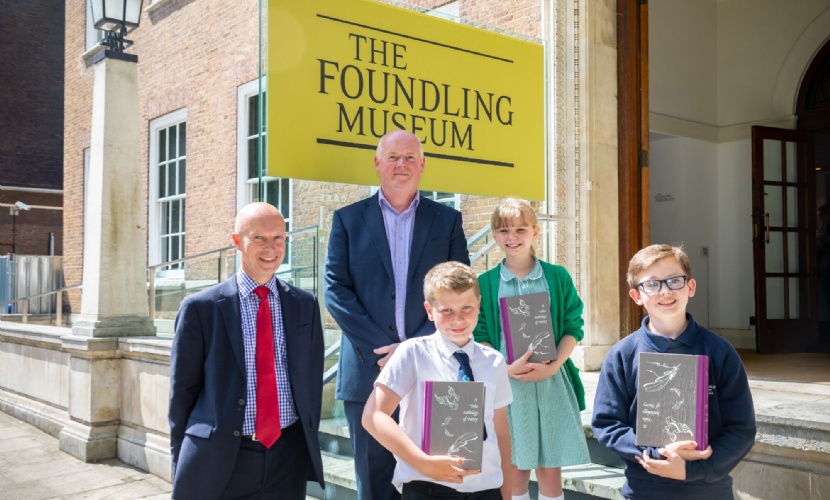 The Creative Education Trust Day of Poetry 2019 was a heated contest of literary and performance talent from years 5 and 6.
Ten finalists for the recital prize performed in the recording booth microphone at PureSoho under the generous and expert tutelage of Simon Bass, while the rest of the group listened in the spellbinding acoustic of the listening room. We moved to the Foundling Museum and met the ten finalists in the competition for an original poem, who had spent the morning visiting the British Museum, Buckingham Palace and landmarks on the Thames.
The audience heard imaginative and confident recitals of poems from the growing Creative Education Trust Day of Poetry anthology, including no less than four versions of Overheard on a Saltmarsh, Edward Monro's mysterious dialogue between a recalcitrant nymph and a goblin who covets the green glass beads she "stole out of the moon".
Our guest judge for the day, along side Marc Jordan, Chief Executive, and Mark Mumby, Director of Standards, was the tenor Marc le Brocq, whom we were honoured to catch between performances on the international opera stage. Marc gave thoughtful feedback to all our recitalists and tips from his own years of performance. Mark Mumby eloquently summarised the panel's comments on the submissions to the prize for an original poem. Every pupil at the event was congratulated on being already the winner of their school competition.
The recital prize - the slipcased Folio Anthology of Poetry - was awarded to Millie of Queen Eleanor for her moving portrayal of a bereaved sailor in Walt Whitman's O Captain! My Captain! while Edward from Wroughton took home the boy's recital prize for his watchful and witty telling of a race between two raindrops in Waiting at the Window by A. A. Milne. The prizes for an original poem were awarded to Lola (Three Peaks) for Seasons, an elegant personification of the seasons as interacting characters; and to Leighton of Harpfield for My Sister, a portrait in nine original epithets from "Peevish-pincher" to "Foot-stomper", skilfully closing in a simple disclosure of kinship.