Comedy, Tragedy, History
---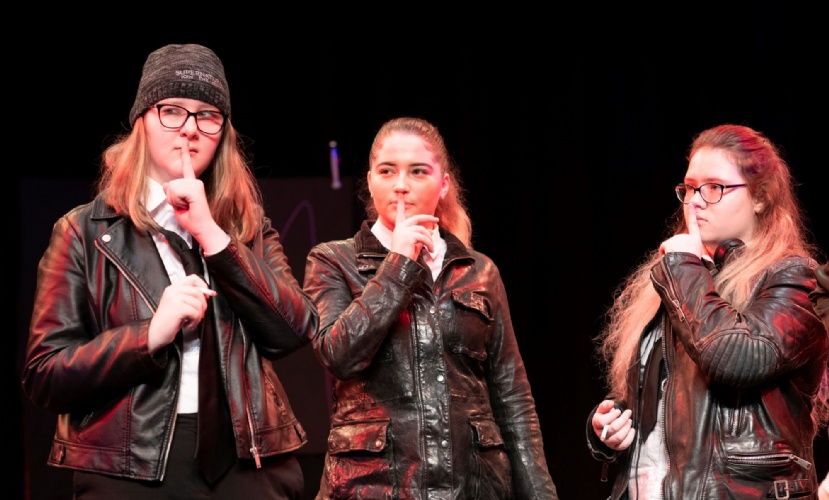 Nine Shakespeare plays performed back-to-back
The robustness of a Shakespeare play, its messages prevailing across the centuries through an astonishing range of settings and interpretations, was once again revealed in our two day festival of Shakespeare: nine plays performed back-to-back in expertly abridged half-hour versions.
The opportunity to witness multiple versions of a single play by different directors is one of the fascinating aspects of Creative Education Trust's project. While Nicky Evans's Romeo and Juliet for Thistley Hough re-cast the Montagu and Capulet warfare as 'modern-day high-school rivalry ending in tragedy', Laura Marrriot's version for Weavers distilled the drama elegantly and ingeniously around a central frame. One of the two 2018 Macbeths was also set by Kristal Watkins for The Milton Keynes Academy in a school classroom; the overwheening Scott's ascent to monarchy construed as a popularity contest played out around a school dustbin. Caister's Macbeth, directed by Helen Wells, unfolded as 'a timeless reminder of how evil can take root in the imagination of a good and loyal person.' Bulwell's Midsummer Night's Dream showed off both acting talent and fantastic design focused on fantastical headgear – a horned Puck and Oberon and elaborately masked faeries – while the Hart School's Dream was a tour de force of circus-themed invention. The main prop, a striped parachute, morphed ingeniously under the cast's control from big top to faery bower to rehearsal tent for Peter Quince and the mechanicals.
Rachel Dedman, directing The Taming of the Shrew for Abbeyfield, promised 'a twist on the original play, which was written when it would have been perfectly acceptable to end with a strong-willed woman getting her spirit curbed by a man'. Changing the gender of the lead characters exposed the coarseness of 'Cat's' treatment at the hands of his opposite number and her cronies. The themes and politics of Julius Caesar were modernised by Chris Dungar for a contemporary audience. Confident and moving performances directed by Rebecca James brought the second Creative Education Trust Day of Shakespeare to an arresting close in Ash Green's Merchant of Venice.
Many thanks are due to Siona Robson, Principal of Abbeyfield School, who hosted the festival in their sumptuous theatre under the technical direction of Richard Walker Glenn and his team.