Drawing confidence
---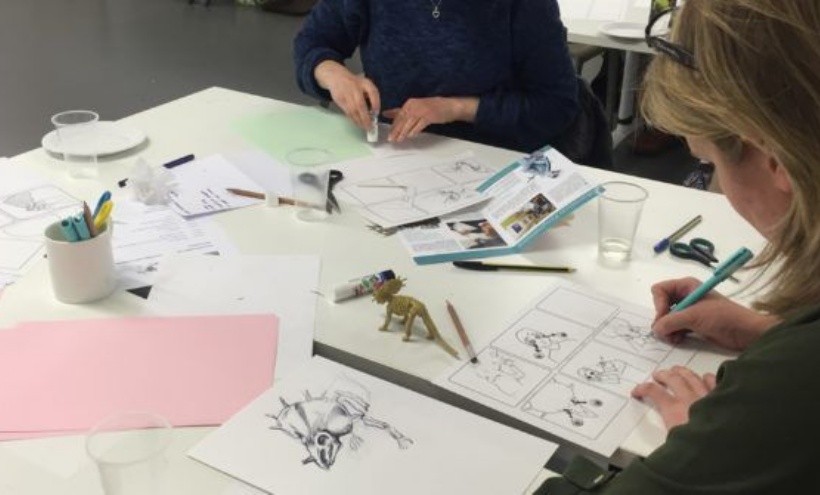 The CET Design Faculties Away Day is a much loved fixture of the summer term – a day when art and design staff from across the schools meet to share good practice, refresh art and design knowledge, and take part in exercises and workshops to enhance their professional practice.
First to the V&A where we met with Corinna Gardner, Senior Curator of Design and Digital, at the Rapid Response Collecting gallery. Objects in this gallery are collected "in response to major moments in history that touch the world of design and manufacturing". Acquiring display objects more quickly than the more 'traditional' galleries that surround it, theses include Christian Louboutin shoes in five shades of 'nude', a clear comment on the global market for luxury goods, the world's first 3D-printed gun, and the custom handlebars Bradley Wiggins used to break the hour cycling record. Corinna treated us to further insight into how objects are selected and what it takes to get them into the gallery.
What followed next was a challenge to our 13 participating teachers to find artifacts in the V&As galleries to support one of CET's key concepts: Structure; Pattern; Meaning; Human Interaction; or, Performance. From religious art providing great meaning, to the reliance on a crinoline's structure to hold the shape of a 19th century skirt, we found examples readily. A good reminder that design research should not just be limited to consumer products of the 20th century.
This year, at the request of teachers, the focus of our afternoon workshop was sequential illustration. Gathering at the House of Illustration, the UK's only public gallery dedicated solely to illustration, we were led through exercises which took different routes to creating illustrations. Each exercise was designed to increase our confidence in drawing. From imagining alternative uses for everyday objects and drawing instructional diagrams to creating collages of imaginary scenes, teachers went away equipped with a series of simple exercises to take back into classrooms.