Eleven Ideas to Change the World
---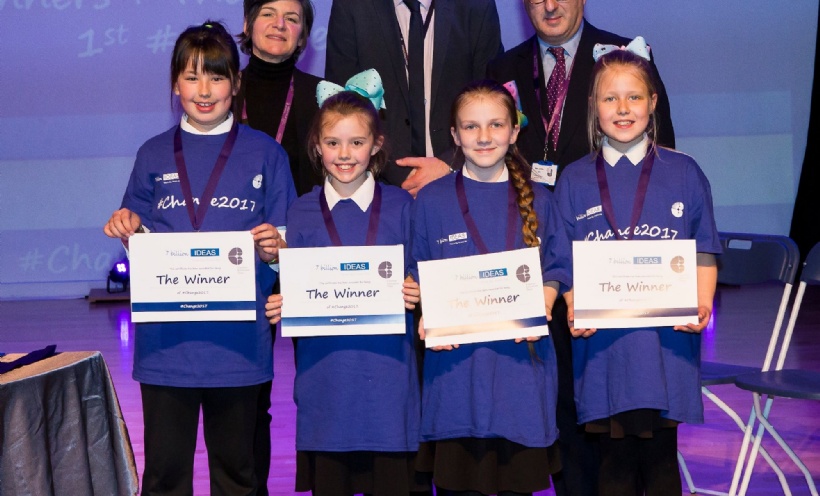 Are you ever too young for enterprise? In January, the creative agency 7BillionIdeas set in motion an enterprise challenge for Creative Education Trust primary schools which culminated in yesterday's final at Abbeyfield School in Northampton.
The challenge, supported with excellent resources to guide brainstorming, prototyping and presentation, was simply to propose an idea that could change the world. Eleven teams of finalists set up stalls to present their ideas.
Awards for the best stall, poster and model were won by – respectively – Three Peaks Primary Academy for their 'Dazzling' high-tech security doorbell, Queen Eleanor Primary Academy for their 'Spelltastic' self-correcting pen, and Woodlands Primary Academy for their prototype 'Flick-it-up' retracting shoe heel (featuring a moveable part).
The third prize went to Harpfield Primary Academy's 'Wifi Lightbulb', an 80 metre high beacon for governments to supply free wifi to whole nations.
Wroughton Junior Academy's paper-cleaning printer came in second – a device that ingeniously wipes paper clean of ink and toner to be re-used, and explicitly addresses the risk of excessive paper consumption by schools.
The winning team, also from Wroughton, are photographed here with judges Marc Jordan and Emily Campbell of the Creative Education Trust, and Tony Mills, Head of the Sixth Form at Abbeyfield. The young inventors performed a virtuosic demonstration of their world-changing invention, an ear-piece that whispers information and guidance to blind people.