Waxing Poetical
---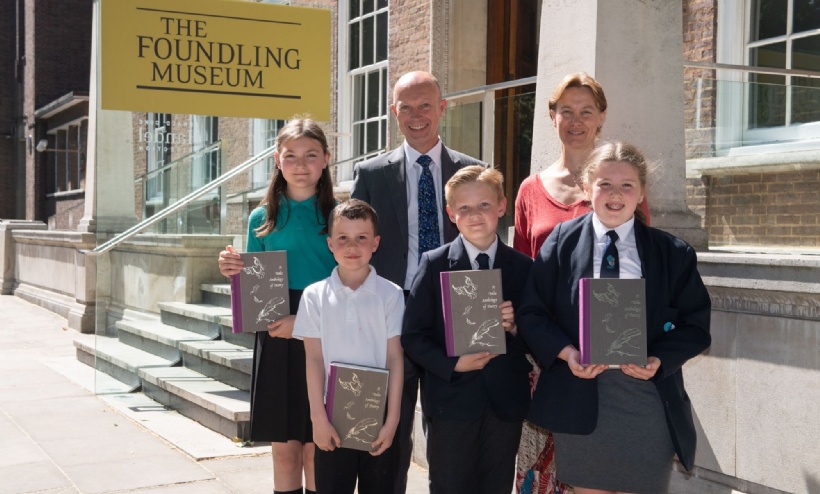 Year 6 poetry compeition: a feast for the mind and ears
The second annual Creative Education Trust Day of Poetry was a feast for the ears and mind. A girl and boy finalist from each Creative Education Trust primary school chose a poem to recite from an anthology compiled for the purpose. Another girl and boy were finalists in the parallel competition for an original poem. On Friday 22 June both groups had a wonderful day out in London. Recitalists committed their voices to permanent record at PureSoho, a state-of-the-art commercial recording studio in the heart of London's film and media production district, while our poets visited the British Museum. Listen to the recordings using the player at the bottom of this post.
Finalists, teachers, audience and judges assembled (after a ride on the upper deck of the No. 38 bus) at the Foundling Museum to hear ten highly polished recitals. Our guest judge, the children's author, creative writing tutor and opera singer Harriet Goodwin, commended all the children's poise, diction and expressiveness, and gave thoughtful insights on each individual performance.
Harriet Goodwin and Mark Mumby were our Day of Poetry judges, alongside Marc Jordan, Chief executive of Creative Education Trust. They awarded the recital prizes to Darcey Bagshawe of Wharton for moving performance of The Witch by Mary Elizabeth Coleridge, and Oliver Garland of Three Peaks for his superbly comic recital of The Dentist and the Crocodile by Roald Dahl. The prizewinning submissions to the original poetry competition were the The Towering Darkness by Isabele Milenciute (Queen Eleanor), described by Marc Jordan as 'a masterly evocation of the menace of darkness and our primal fear of the night', and The Traveller by Joel Smith (Wroughton), 'balanced between the mundane act of waiting for a departure and the brooding, unresolved mystery of a silently present bird'.
Winners, photographed here, received their own handsome, slip-cased Folio Society Anthology of Poetry.
The Foundling Museum occupies the building erected by Thomas Coram in 1739 as a hospital for children at risk of abandonment, with the support of prominent figures of the time such as the artist William Hogarth and composer George Frederic Handel.