Fear, greed, treachery and hatred
---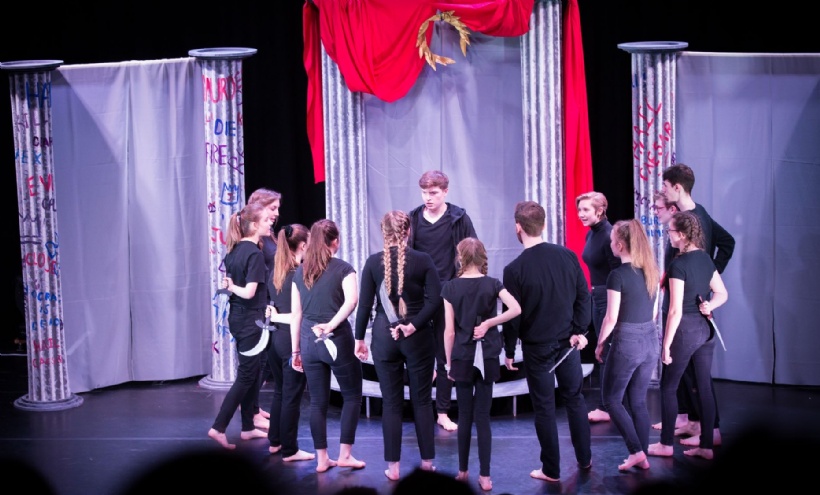 'Fear, greed, treachery and hatred' never looked so good. Weavers Academy opened Creative Education Trust's double Days of Shakespeare with Richard III; the villainous drama and background narrative cleverly integrated in three ingenious twisting frames and several excellent performances. Lynn Grove's Romeo and Juliet proceeded from comedy to sorrow with elegance and charm. Caister's As You Like it closed the first day; this complex tale of exile and disguise brought into relief by the students' confident and energetic use of the stage. As the company of actors transformed themselves with props and sound and movement into the forest of Arden, a memorable image was created for everyone in Abbeyfield's auditorium.
Abbeyfield themselves opened the second day with Julius Caesar; grand and classical in its themes of republican power and politics, but with an undertow of moral complexity and decadence. The exemplary diction of the sixth form actors was an inspiration to younger players in the audience. Thistley Hough re-cast Twelfth Night in the campsite of a rained-out music festival, Count Orsino importuning music, the food of love, to his iPhone while Olivia scowled at hers. Ash Green's Macbethdrew outstanding performances by the leads, supported by a confident cast of witches and men. The Hart School's Much Ado About Nothing reminded us that we were watching human fauna at play in pursuit of love, as an anoraked cast of birdwatchers returned iteratively to their binoculars.
The Days of Shakespeare was devised for Creative Education Trust by HMDT Music four years ago and includes early interventions on text and design by the Royal Shakespeare Company's Michael Corbidge and the designer Mark Friend. They have become treasured opportunities to perform some of the greatest works in English literature and design an absorbing visual spectacle. Just as important; it is a chance for students to see what other schools in the trust have done and to witness their own creativity and skill in a wider perspective. Congratulations to the actors, designers and directors and an especial thank you to Richard Walker-Glen and his technical team at Abbeyfield School.