Poetry please!
---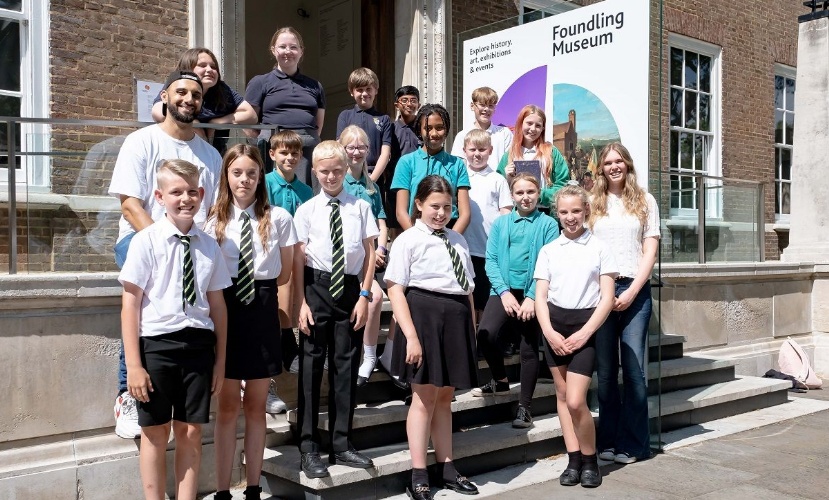 This year's Primary Poetry Prize resulted in a fantastic final celebrating our young writers and recitalists.
Rewarding Year 6 pupils for their poetry writing and recitation skills, this year's London final welcomed 20 students from Harpfield (Stoke-on-Trent), Queen Eleanor (Northampton), Three Peaks (Tamworth), Woodlands, and Wroughton (Great Yarmouth).
For the first time, we invited all of our finalists - both writers and recitalists - into the recording studio to immortalise their words. Tom, sound engineer at Voiceover Soho, put them through their paces - giving them insight into how spoken word is recorded. Our exceptional pupils can now say that they've recorded in the booth where professional actors and voiceover artists have stood before them.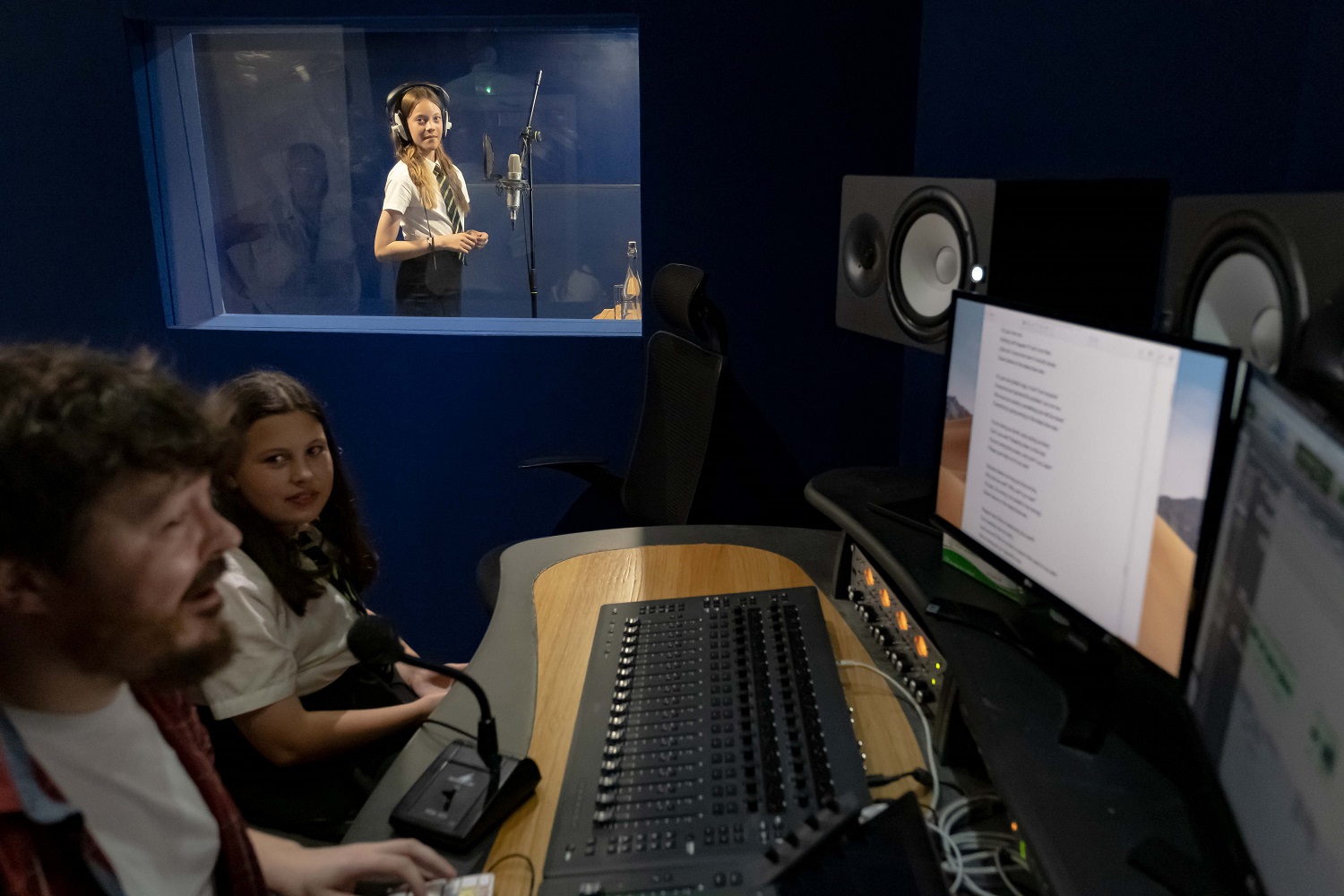 Woodlands Primary Academy students record their poems under the guidance of Sound Engineer Tom at Voiceover Soho.
Original poetry submissions touched a wide range of subjects, from Jayden's Ode to Bacon to Mia's plea for taking care of our oceans, Down Below in the Deep Blue Sea.
At our afternoon live event, held at The Foundling Museum, our poetry recitalists performed for their assembled peers and the judges. We heard wonderful versions of poetry by Harold Munro, Benjamin Zephaniah, Jacqueline Woodson, and Kae Tempest.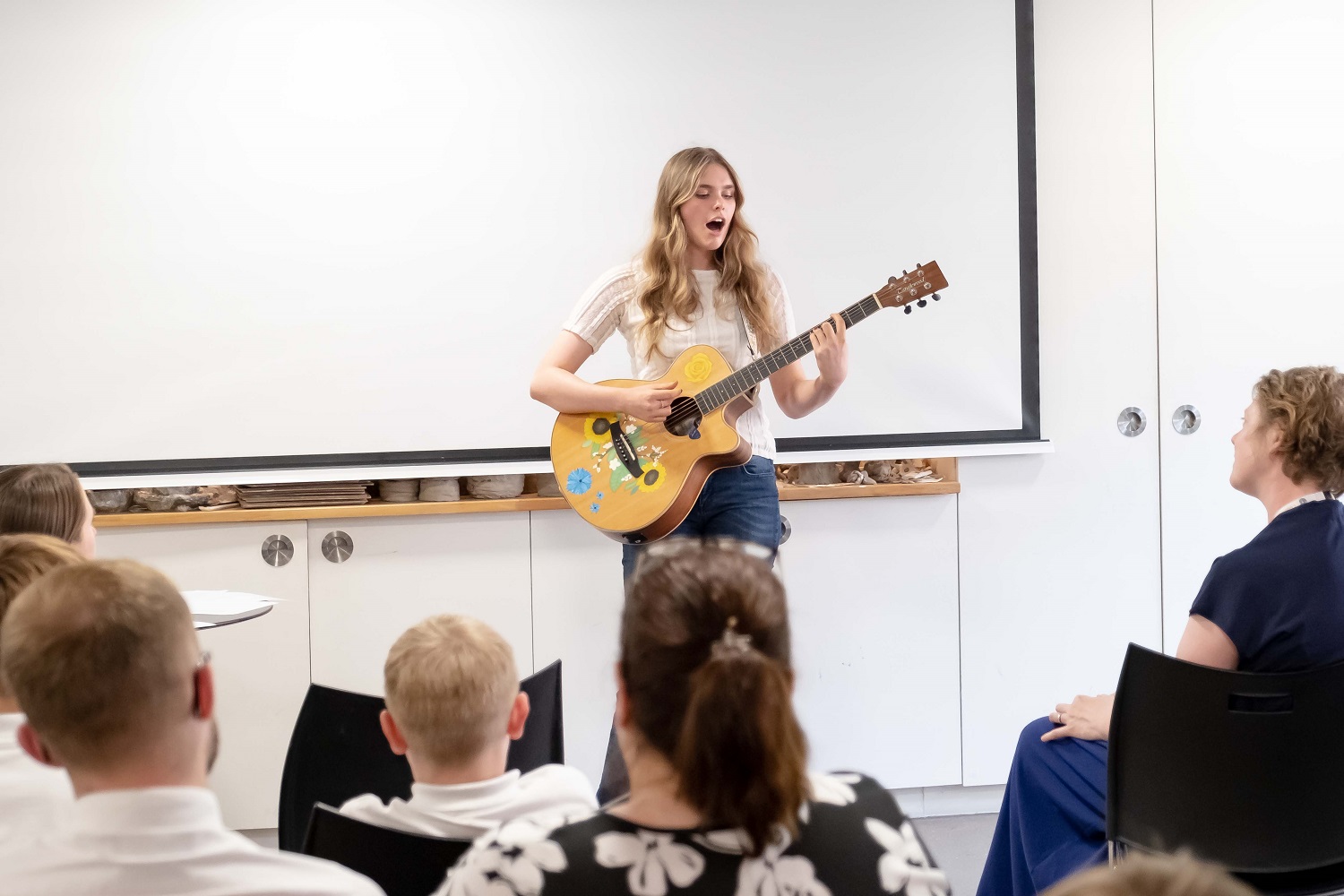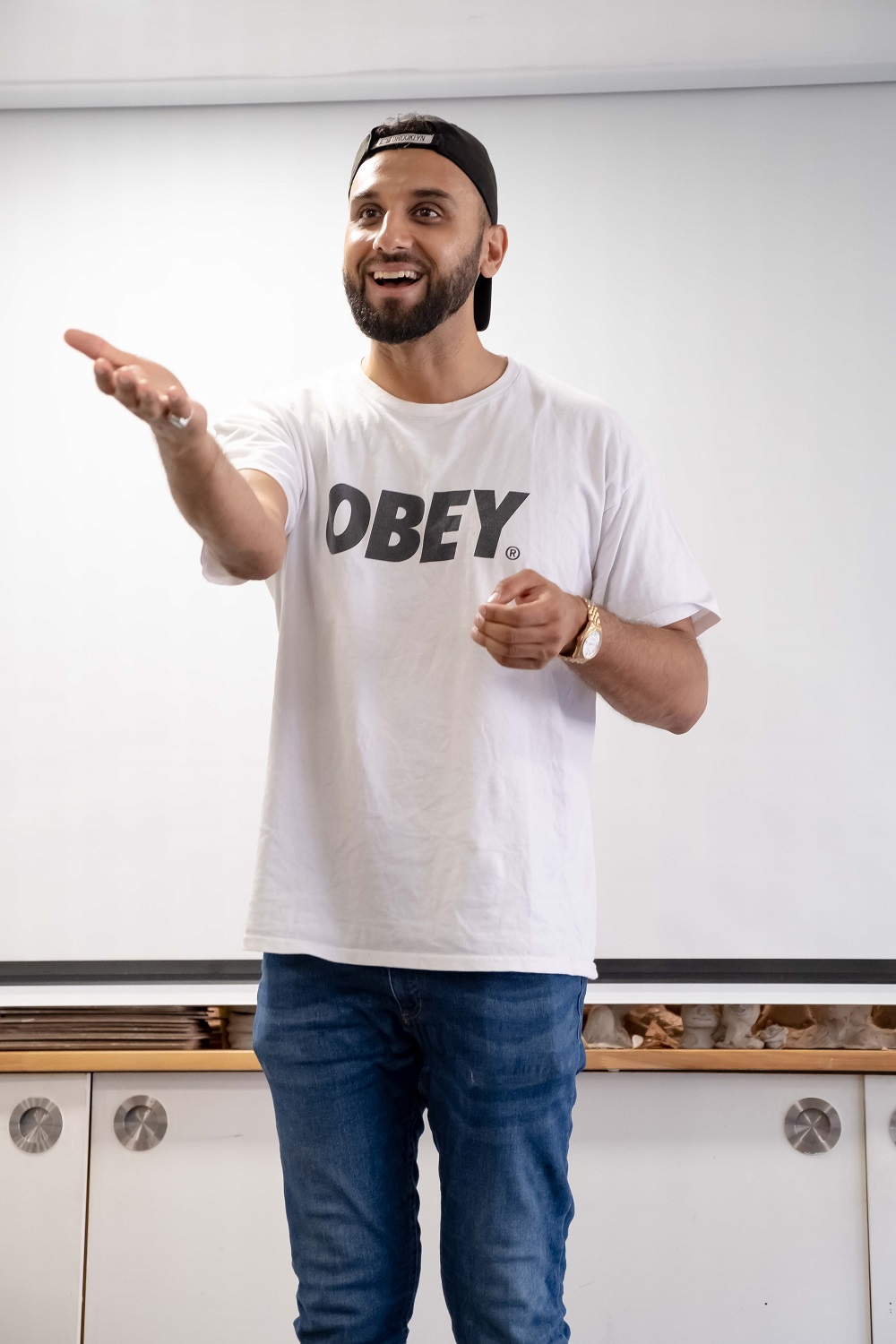 Lottie Gray serenades the assembled finalists and Zohab Zee Khan asks us not to be afraid of failure.
Joining Head of Programmes, Kate Ward, this year's guest judges were poet and motivational speaker Zohab Zee Khan, who shared his experience of growing up in a small village in rural Australia and urged those gathered to not let fear of failure or the unknown hold them back, and singer-songwriter Lottie Gray. An ex-student of both Woodlands Primary and Lynn Grove Academy, Lottie talked of her love of word craft and played her beautiful song Daffodil Baby for us. You can read more about Lottie's journey since school in our interview published for Schools Alumni Week.
The judging was fierce, but eventually the prizes for poetry recital went to two Three Peaks pupils: Kayden for his rendition of Munro's Overheard on a Saltmarsh, and Alice for her People Need People by Benjamin Zephaniah. The winners of the awards for Original Poetry are Fae from Wroughton for Ode to Seasons and Jack from Harpfield for An Ode to Books.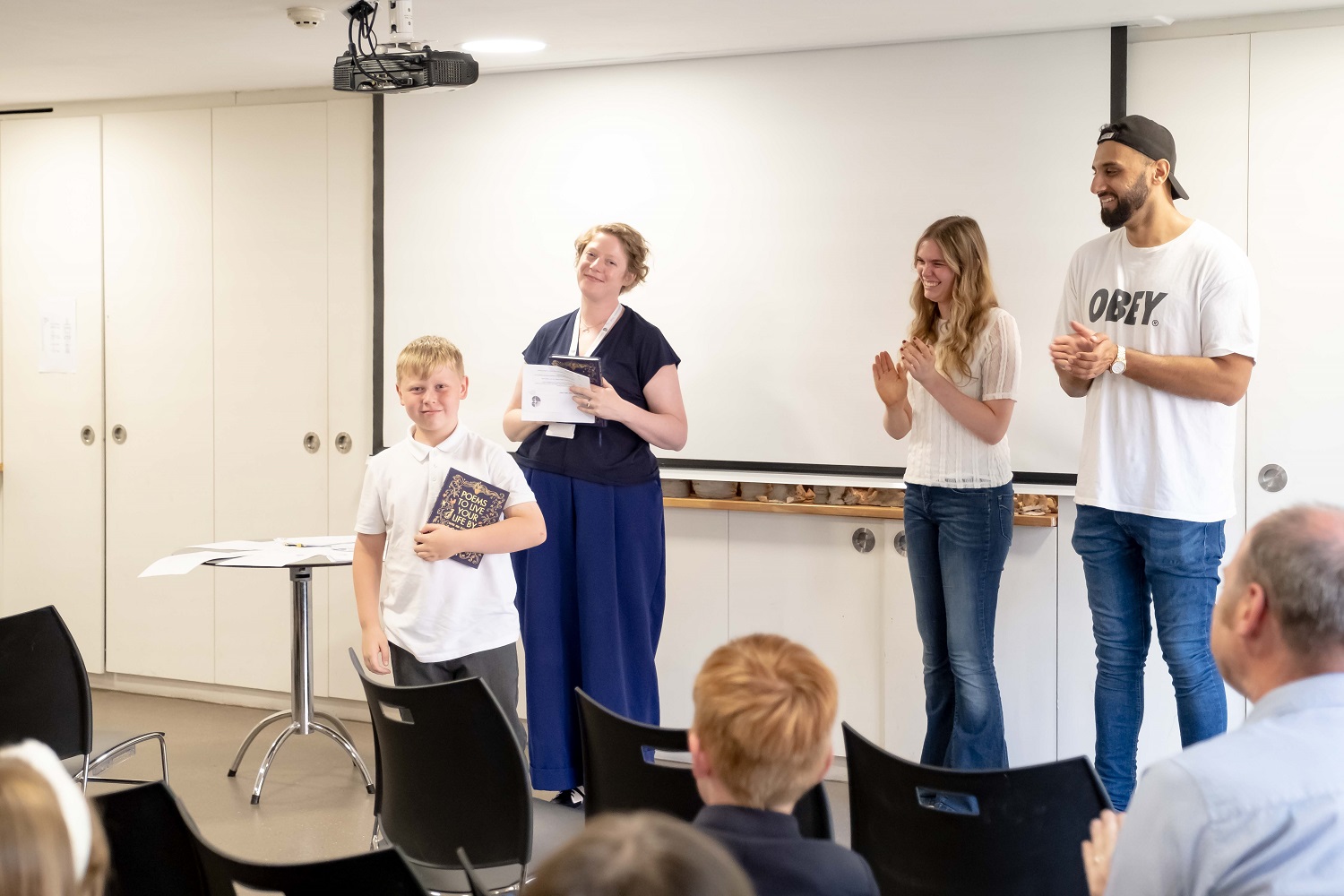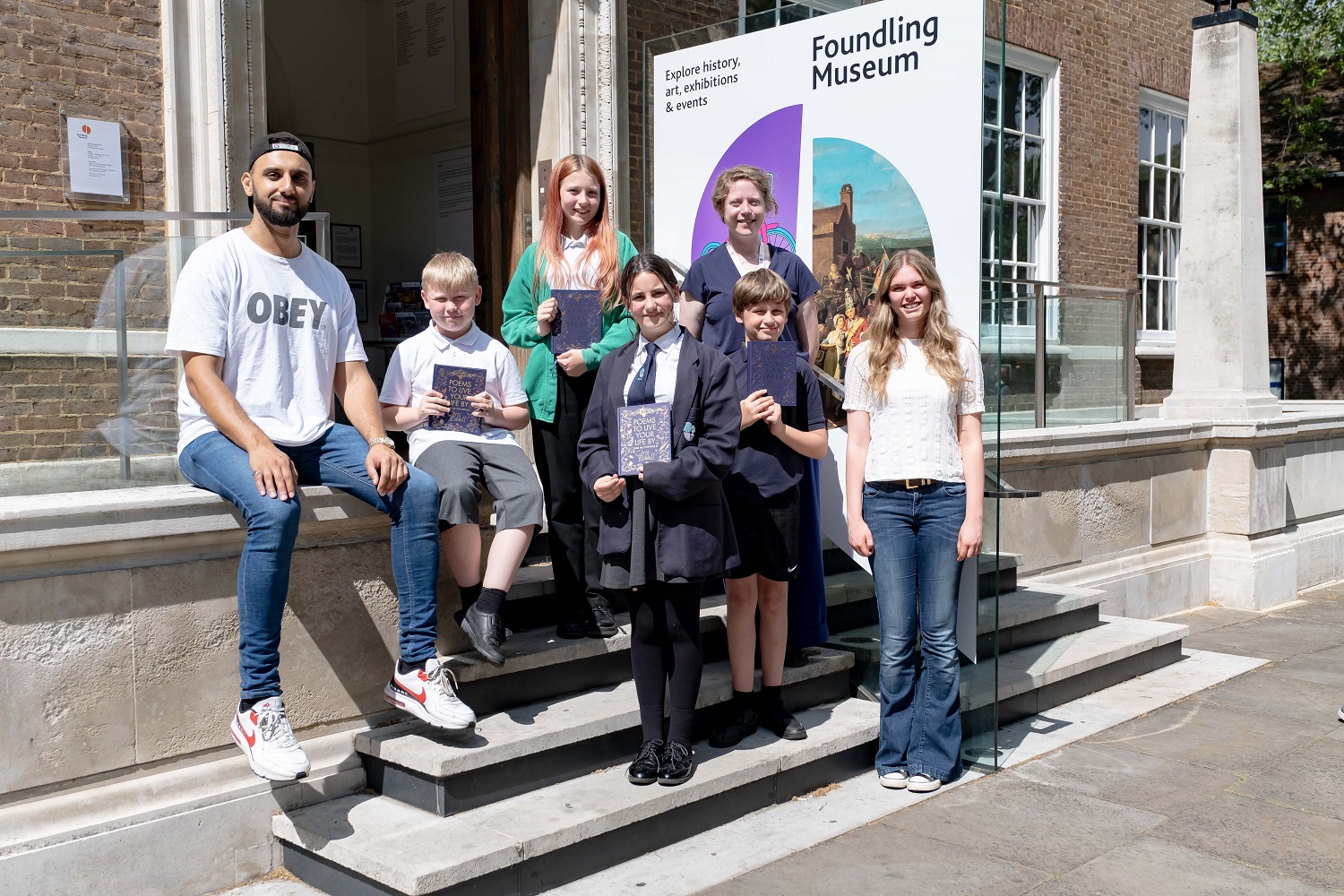 Kayden, Three Peaks, receives his prize (left), and all four prizewinners stand outside The Foundling Museum with our competition judges.
Congratulations to all finalists, and to our four prize winners. For the first time, we would like to invite you to listen to the recordings of all our poets: