Exploring design
---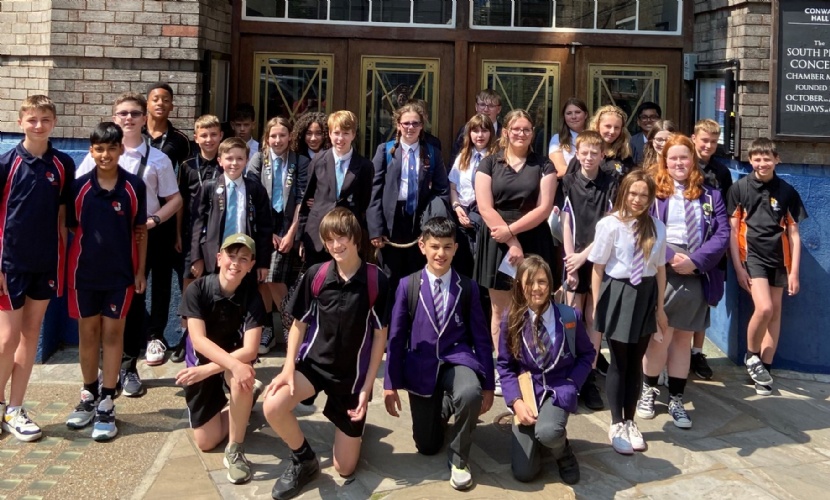 Students from across Creative Education Trust learn about creating meaning in art and design on a special trip to London.
On 13 June 2023, 33 pupils across 7 Creative Education Trust schools met up for a rewards trip in London. The trip rewarded year 8 pupils who had engaged well with their school's Knowledge Connected days, where pupils explore the links in their learning across subject boundaries.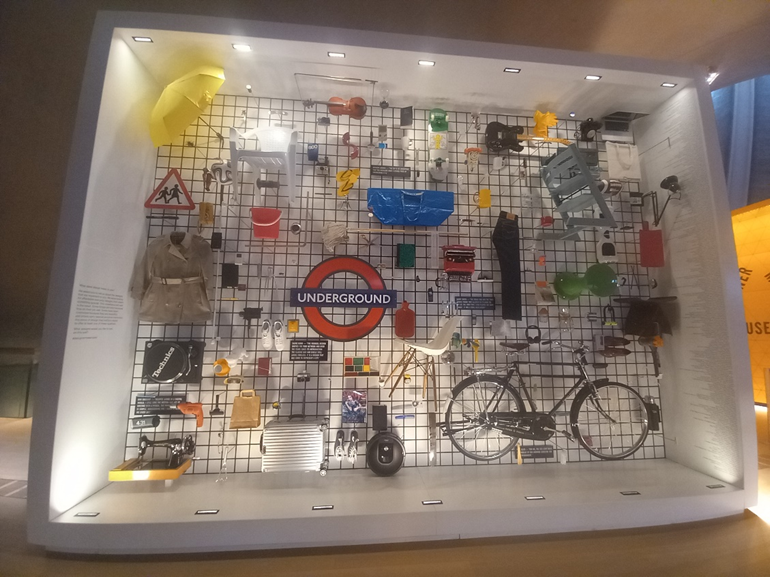 Above: A display in the Design Museum features everyday objects nominated by hundreds of people as objects that carry value and shape our lives. Pupils considered what they'd add to the wall, and what's important to their generation.
The day encouraged pupils to examine the purpose and meaning of art and design, reflecting on the question 'What does good design mean to you?' The trip began at the Design Museum, where students had the opportunity to visit their permanent and special exhibitions. Through Yinka Ilori's 'Parables of Happiness' exhibit, pupils discovered how design can transform spaces such as playgrounds and laundrettes - focusing on sparking joy and evoking memory. Meanwhile, the 'Designer, Maker, User' exhibition introduced pupils to the background and history of design, and how it has evolved over time.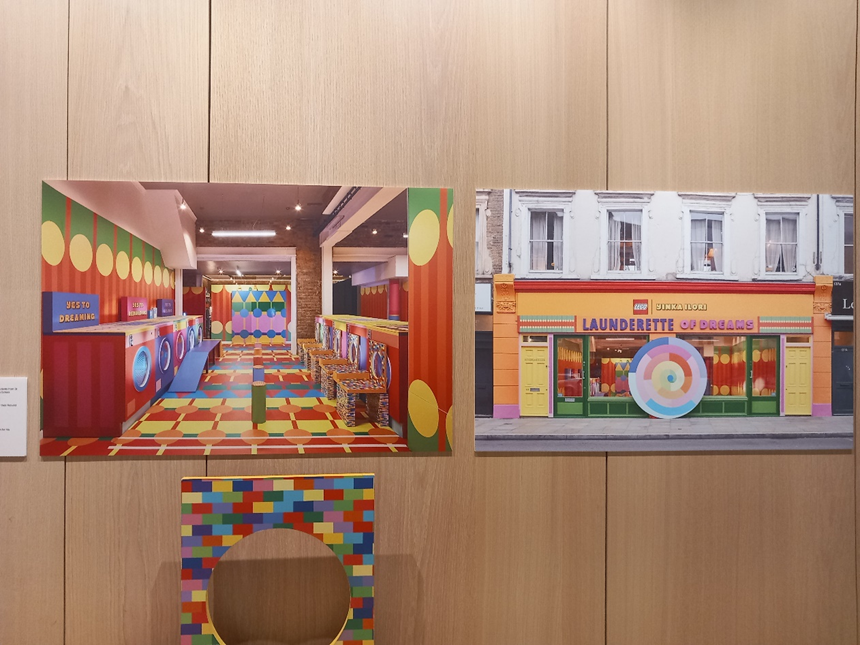 Ilori's work revealed how ordinary spaces like laundrettes can be re-imagined. Pupils were encouraged to think about the spaces they'd change if they could – with answers ranging from classrooms to dental surgeries.

Pupils then visited the 'Ai Weiwei: Making Sense' exhibition, looking at the ways art can be poignant, thought-provoking, and a form of resistance. Fragments of destroyed sculptures from his previous studio are on display as evidence of repression, whilst Monet's famous 'Water Lilies' is re-created with Lego, featuring a dark portal to reference where Ai Weiwei and his father were forced to live in exile. The exhibition is also an act of remembrance, with items such as life vests and backpacks joined together to form a snake – commemorating victims of man-made and natural disasters, and the scale and unpredictability of these tragedies.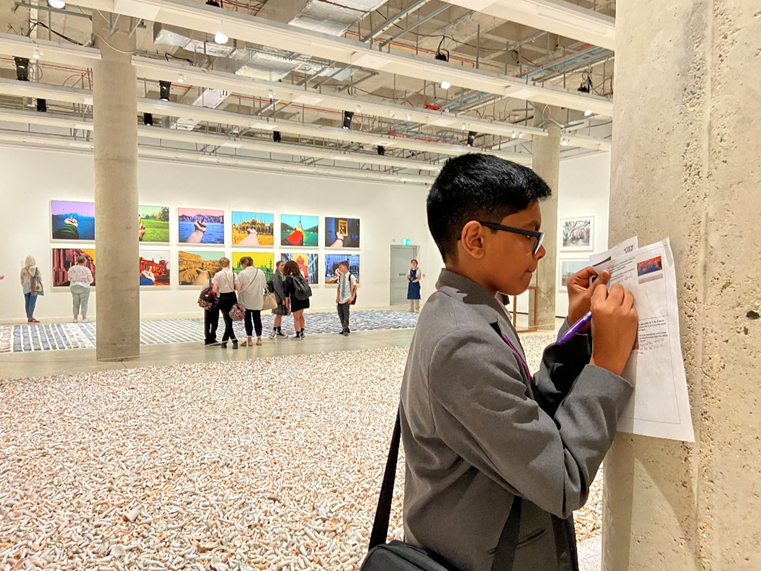 An Abbeyfield student answers questions on their worksheet in Ai Weiwei's 'Making Sense' exhibition.
With the exhibitions in mind, pupils travelled to Conway Hall for a presentation and Q&A from designer Rebecca May of Sadie May Studio. Rebecca specialises in branding, illustration, print, and typography, and has a particular interest in projects and companies with a strong focus on positive social impact. Pupils asked a range of fantastic questions, such as 'How has your style changed over time?', "How did you start getting involved with charities?", and "how can you turn something you enjoy into a job?" Rebecca shared her own experience, and how she focuses on identifying work "that's meaningful to me, rather than necessarily being flashy work that pays better". Thinking about how she's been able to be part of such many fascinating design projects, Rebecca emphasised "I wouldn't be able to do such interesting work if I wasn't open-minded to the world".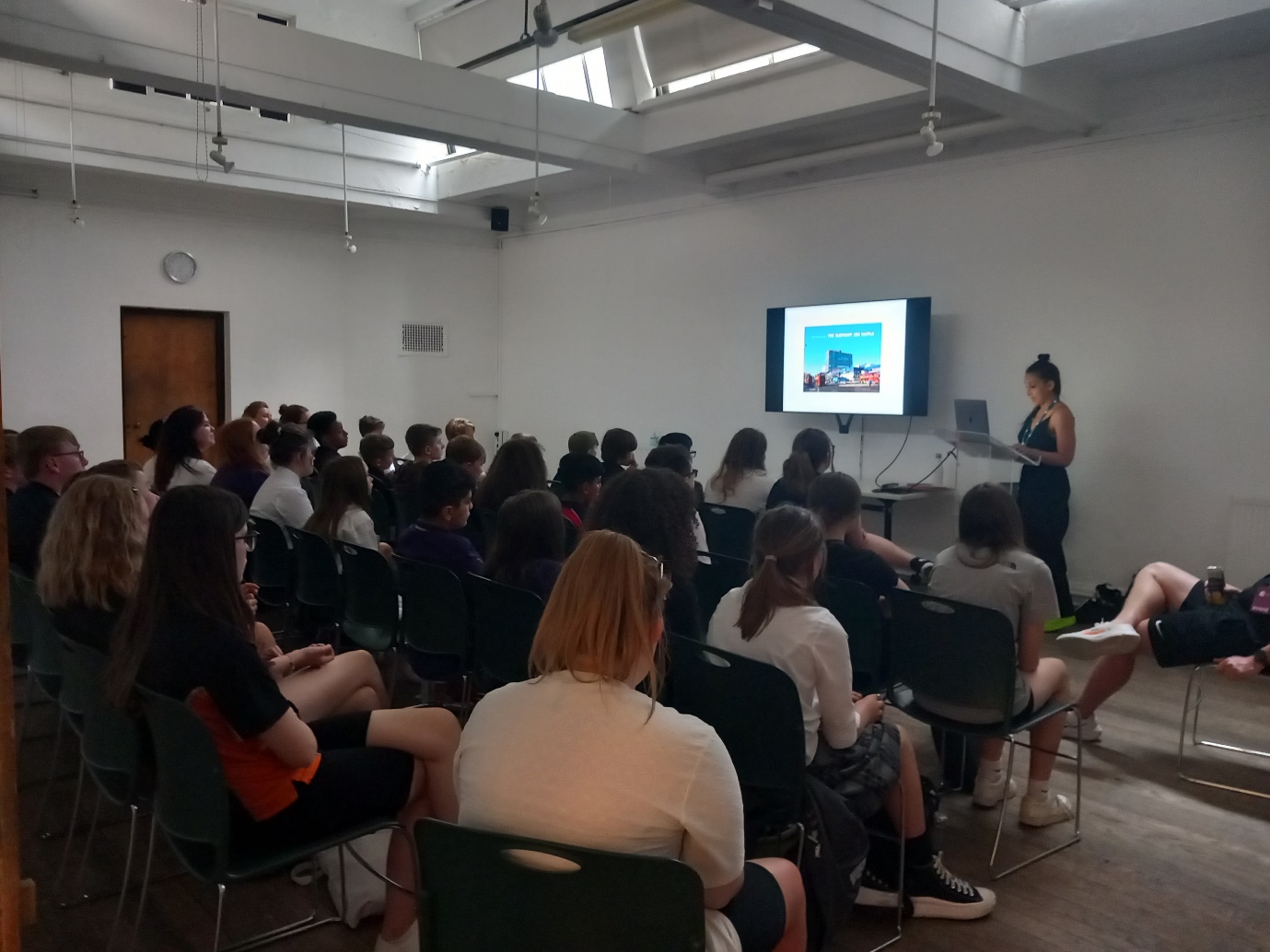 Rebecca shares her experience with pupils at Conway Hall.
We ended the day with an opportunity for pupils to take on their own design briefs, tying together their learning from the day. Pupils were tasked with designing an item of clothing for someone they admired or cared about – whether that was a friend, relative, or public figure. Pupils had to think about what type of clothing that person needed for their work or hobbies, how they might be able to convey their personality through colour and pattern, and what 'good design' might mean to that client – whether it's clothing that's practical, affordable, or sustainable and environmentally friendly.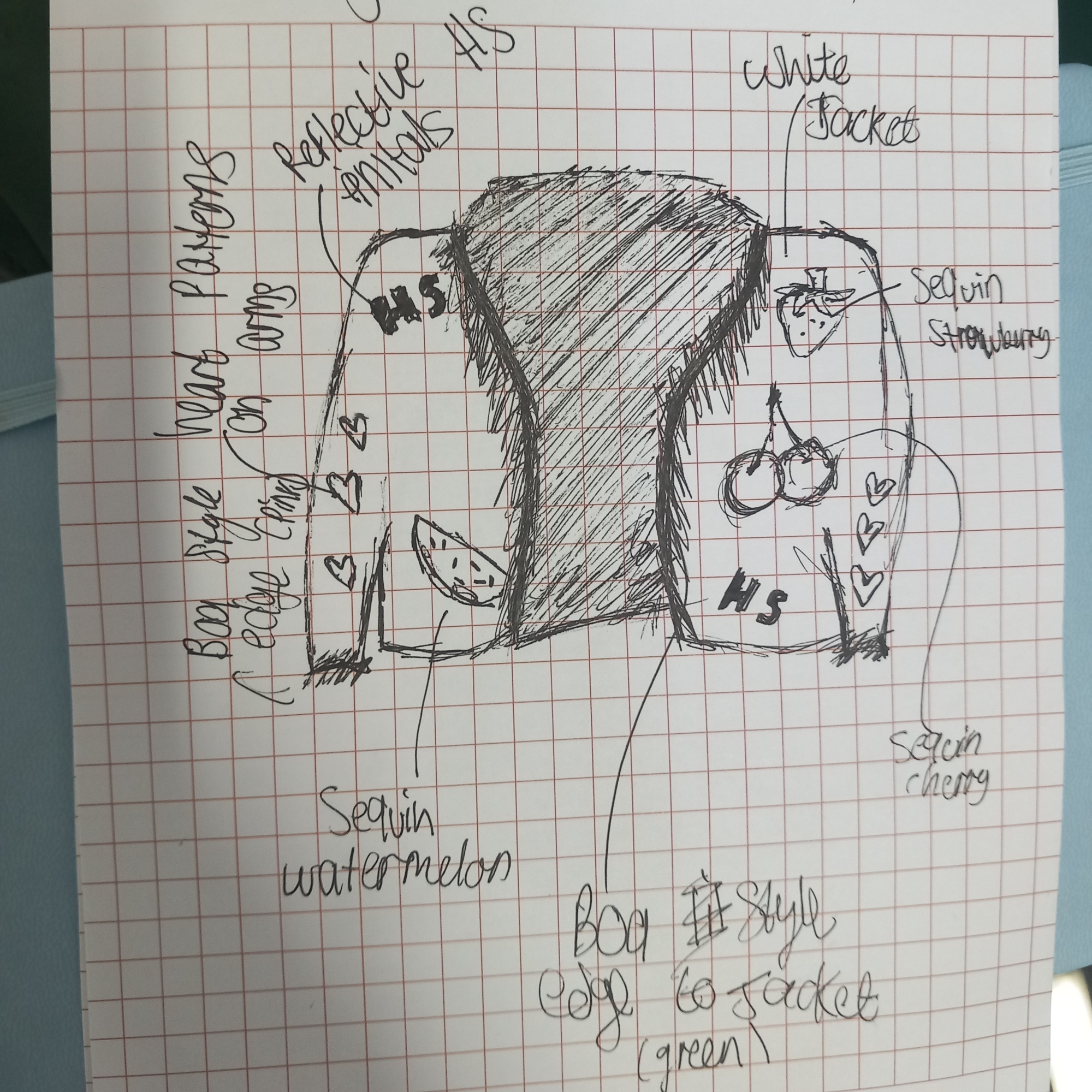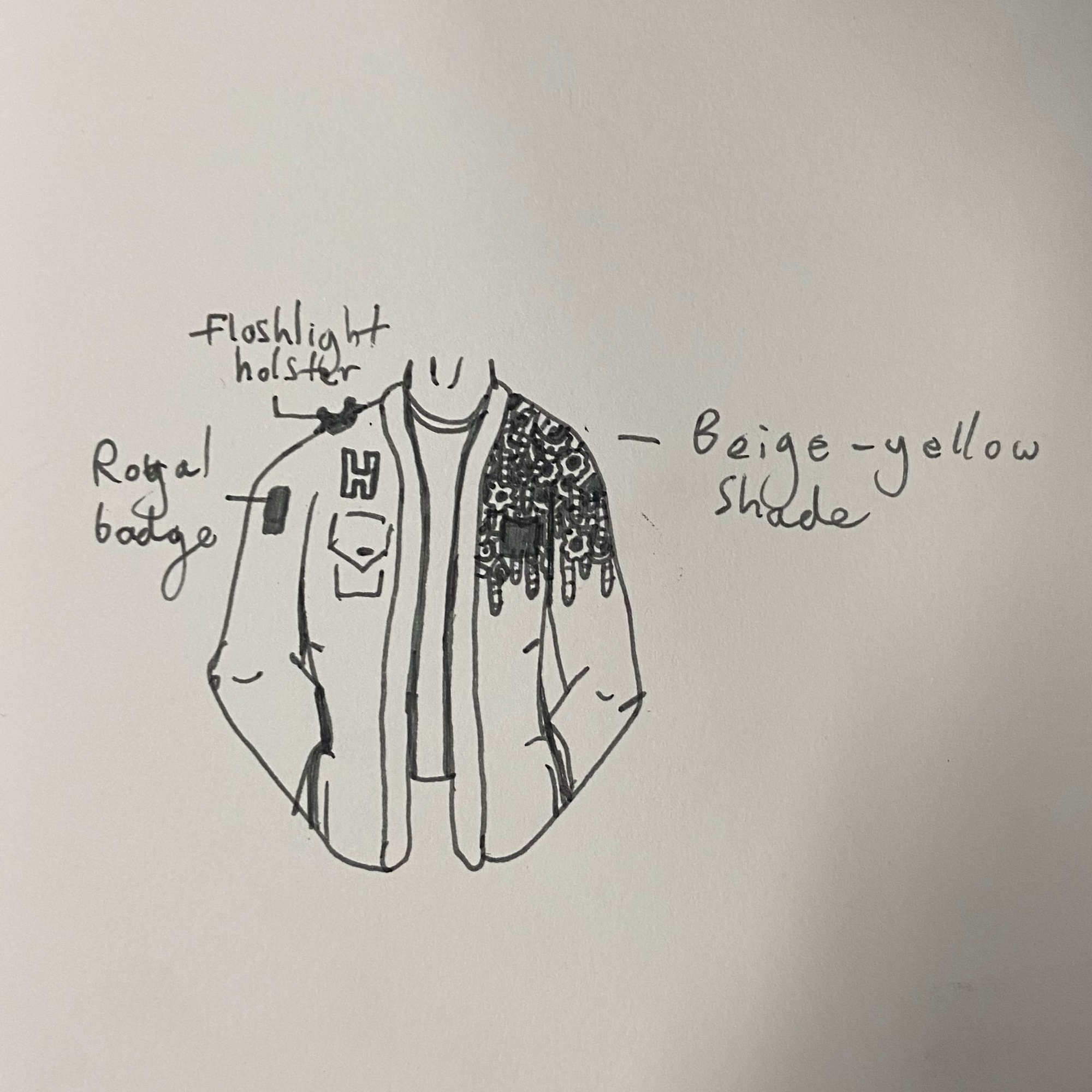 Pupils design items of clothing for their selected clients; Harry Styles (left), and for their history-loving dad (right).
Thank you so much to all the brilliant year 8s who joined us on the trip, and to all the teachers and members of staff who helped make it all happen!