Community and allyship
---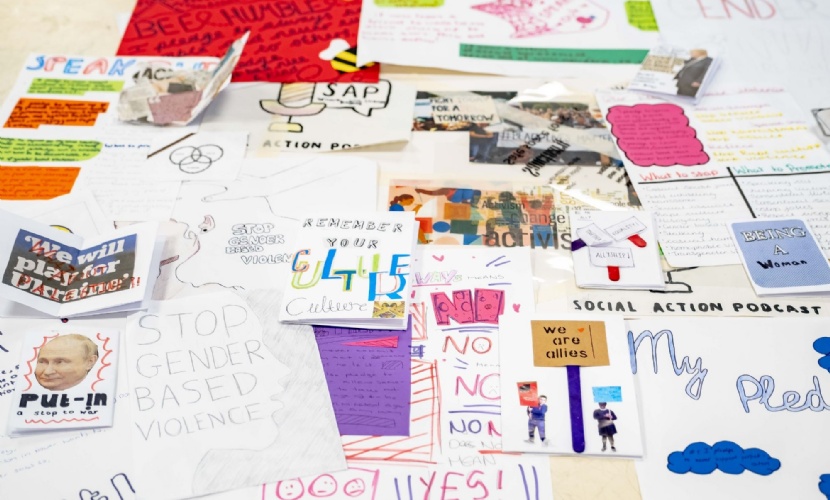 Trust Alumni network gets an insider view of Thistley Hough's latest student-led social action initiative.
On Tuesday 23 May we welcomed Kirstie Hicks, Assistant Principal of Community and Culture at Thistley Hough Academy, as the guest speaker of our latest Alumni Network meeting. Kristie joined us to share details of the project, which focused on allyship and bringing communities together.
The content and speakers of alumni events are shaped by the requests of former pupils. So far, we've heard from Mary Creagh, former MP; Ben Francoise, Abbeyfield alum and founder of the social enterprise Saints Coffee; professional footballer and disability advocate Azeem Amir, and also had opportunities for alumni to share their own career journeys.
Our latest network call focused on community action, first hearing from Kirstie about Thistley Hough's student-led social impact project on allyship, before inviting alumni to share how they're making a difference in their former schools and local communities.
Thistley's allyship project is part of a wider initiative called Our Town, which began following the disruption of the pandemic. Each Creative Education Trust school was invited to submit a bid of up to £7,000 for a student-led project that would have a positive impact in their community. All the projects can be found here: https://knowledgeconnected.org.uk/CETOurTown
Kirstie explained pupils' motivations to focus their project on allyship. The school has a "huge, diverse population with around 58 languages spoken". The group recognised instances where "voices were not being heard, and spaces being not quite for them". Whether they wanted to challenge misconceptions, address problematic language, create anti-racist spaces, or protect women's safety, all members of the group were determined to be allies to one another and to be part of a community where everyone can feel accepted.
Kirstie discussed the different outputs of the project so far. Supported by project partners, the group have produced an allyship manifesto in the form of a zine, worked with a Violence Reduction Alliance to help develop sanctuary spaces for women who feel unsafe, and started a podcast to help challenge misrepresentations and discrimination of people of colour. Kirstie talked about the value of involving partners, from the Violence Reduction Unit to staff from Staffordshire University: "It's invaluable as it's given validity to the project. It's not limited to school – it's made it bigger and helped the students to create a legacy."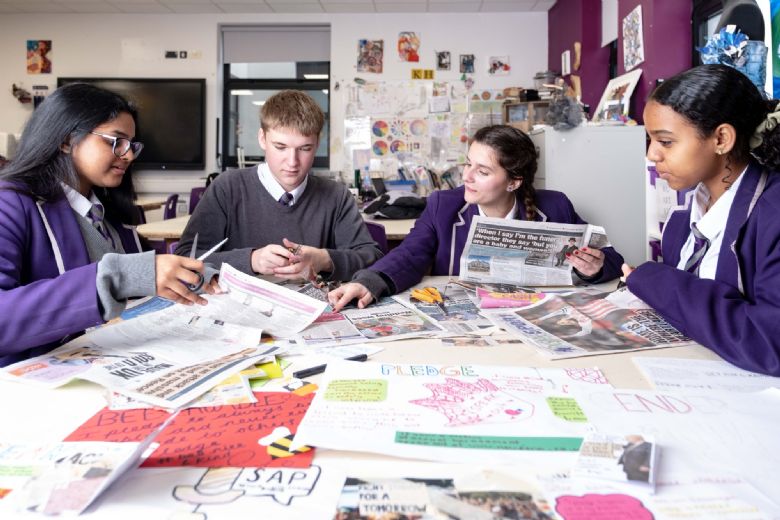 Members of the group planning designs for their manifesto
Kirstie's recommendations to others considering setting up their own initiatives is to "start small and open a space for conversations." Creating a voice and a vehicle helps others to share ideas, and "things will snowball, enabling people to come together as a community". A big part of this process is drawing out "expectations and non-negotiables" as a group and encouraging members to share their experiences, so they know where everyone is coming from. Another area to consider is how to respond when met with resistance. Kirstie explained that the pupils leading the project set the perfect example by re-framing the challenges and questions they get asked. The group say "Miss, we've got a new challenge!" as they see this not as a set-back but an exciting chance to reach a new audience and as a "tool to improve".
For Kirstie, in a role that is demanding of her time and concentration in many different directions, she sees the project as nothing but a benefit: "It's at the heart of everything I do, whether that's working with Year 6 transition, breakfast club or lunch duty. Working on this project and with these students has helped me to be a better practitioner and a more compassionate leader."
With the inspiration of Thistley Hough pupils in mind, we had the chance to hear from alumni on how they've been active in their local communities. This year has seen the first in-person cross-Trust workshop led by alumni in collaboration with Future First (see more here: https://knowledgeconnected.org.uk/alumnieventjan23), alumni apply to become governors in their former schools, a regional ITV team filming alumni making a difference to year 9 pupils in Bulwell Academy, and former pupils take on roles as judges and guest speakers at cross-Trust events and competitions. Alumni have also been leading on their own initiatives, the latest of which is a pilot mentoring programme led by Deimante Aleks and Olivia Taylor, matching young people from underrepresented backgrounds to Climate, Conservation and Environment Mentors. We can't wait to see what members of the alumni network do next!
If you're a former pupil, you can join the Creative Education Trust alumni network and sign up for the latest opportunities with your former schools through the Future First hub. Find out more here: https://futurefirst.org.uk/future-first-hub/