Schools Alumni Week: Deimante Aleks
---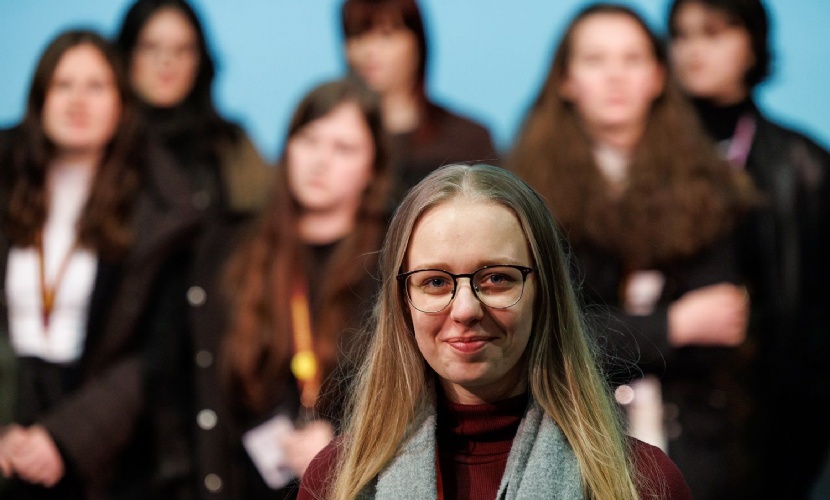 As part of Future First's #SchoolsAlumniWeek, we're interviewing five former Creative Education Trust students to raise awareness of the importance of role models in schools.
Deimante Aleks is an alum of Abbeyfield, Northampton, who has recently returned to support her former school as a governor on their Academy Council.
After leaving Abbeyfield in 2018, Deimante went on to study Photography at Arts University Bournemouth. She now works part-time running her own business as a professional photographer, and part-time as a Volunteer & Projects Officer for Student Community Action. Through her role, Deimante matches students to support vulnerable members of the Cambridge community through exciting opportunities and projects.
Outside of work, Deimante has been involved in modelling and volunteering, including photographing campaigns to raise awareness of the environmental crisis and what is happening in Ukraine.
What do you remember about your time at school?
"There were amazing English, business, and art teachers. I had a really good connection with them and got so much support. English was my second language (my first language is Lithuanian) which meant that at first it was hard, but teachers saw I had lots of potential. My grades shot up because they took the time to go through things with me and helped me to improve."
What did you enjoy most at school?
"The art room was where I loved to paint, and where my creativity really started to come out. Although Abbeyfield didn't offer photography as a separate subject, my form tutor made a photography club and gave us different assignments. I always knew I wanted to carry on with photography and to do something in the creative field."
What would your recommendations be for students interested in pursuing a career in a creative industry?
"My recommendations are to build a portfolio and to have fun with it! Being creative is fantastic as you always get to enjoy what you are doing and enjoy the process too! Work on your technical skills and, whatever your creative field is, do more with it. Take a class, watch online videos, or create personal projects where you develop your skills.
Build a network. Attend industry events, join professional organisations, and connect with other professionals on social media platforms like LinkedIn. It's important to be passionate, committed, and persistent. By developing your skills and creating a strong network, you can position yourself for success."
What about your advice for those considering self-employment?
"Never give up. If you have an idea or dream of what you would like to do, or what business to create, then go for it. Many people have succeeded just by trying, and they have been surprised at how well they have succeeded. Maybe you will create the next big company without even knowing that you can do it right now!"
 How have you stayed involved with Creative Education Trust?
"I have recently been involved with Creative Education Trust for an alumni event, where sixth formers from 3 schools came to Abbeyfield. We took part in workshops, spoke about our stories, and we helped them make informed decisions about their future career paths - guiding them towards the various options available to them. Other ways I have stayed in touch with Abbeyfield is by coming to their Art shows in previous years. I am also very happy and glad to say that I have been accepted for a governor position at Abbeyfield, so I will definitely become more involved."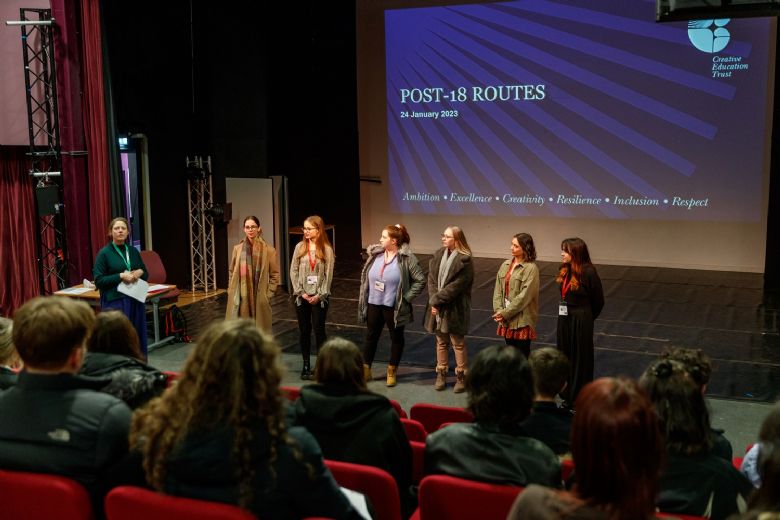 Deimante taking part in the Post-18 routes session on a sixth form employability skills day.
 What motivated you to stay involved?
"Working closely with sixth formers reminded me of a difficult time in my life - being a teenager, feeling like you have to make the biggest decision of your life, yet unsure of what you want to do. I really enjoyed being a role model in the school because I love that students look up to me and I know how much I would have benefited from this when I was their age. I have also developed personal growth by volunteering. Before, I would have never been able to stand up on stage in front of people and talk about myself."
We look forward to hearing about Deimante's next steps and wish her well in the role as Abbeyfield's newest governor!
If you're a Creative Education Trust alum, and you're interested in getting involved, our next virtual network event will be Tuesday 23 May 6-7.30pm. Our events are a chance to meet other alumni, hear from a guest speaker, share ideas for the network, and find out about upcoming opportunities. Please email alumni@creativeeducationtrust.org.uk for all the details.