'Safety in numbers?': Sixth Form Public Speaking Prize
---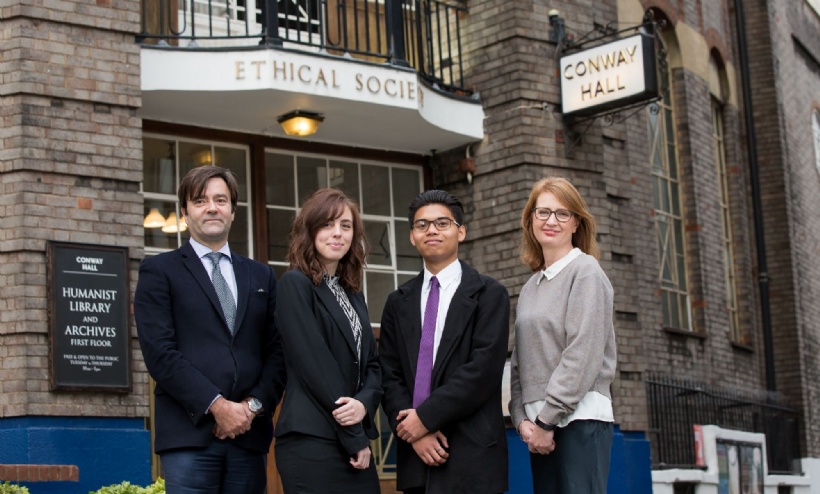 Seven sixth formers contended for the 2017 public speaking prize with a ten-minute speech addressing the proposition 'Safety in Numbers'. Eloquence, ingenuity and evidence were applied to a wide range of arguments and purview.
Sophia Nichol of Abbeyfield took on the big theme of democracy and argued for lowering the voting age to 16. Emily Kuhn of the Hart School described the contemporary perils of social media and how 'our touchscreens make us lose touch', while her classmate Morgan Buckley drew a fascinating analogy between teenage gangs and wolf packs. Bethany Clarke of Ash Green made us consider how little safety there is in numbers for the rhino and the elephant – a passionate exhortation against the extinction of species. Corina Patulea and Matt Gladwin, both of Abbeyfield, presented strong arguments in favour of individual courage and 'going it alone'.
The winning talk, by Wiktoria Seroczynska of Weavers, argued persuasively that while medical science achieves greater and greater safety in numbers through research, personalisation and universal healthcare, we need to look ahead to the result of this success – unimaginable billions of humans occupying the planet.
Our judges were Paul Lay, Editor of History Today, Kirsty Dias, a director of the international design company Priestman Goode (and the newest member of Creative Education Trust's Education Advisory Group), and Marc Jordan, Chief Executive of Creative Education Trust.
In inspiring his address to students, Paul alluded to the eloquence and prose rhythms of historical and literary writers from the days of ancient Greece and Rome through to the present; among them Herodotus, Gibbon, AJP Taylor, Milton, Shakespeare, Cranmer, Jane Austen and many others; reminding us that Neville Chamberlain quoted the Book of Common Prayer ('Peace in our time'), and so did David Bowie. Paul encouraged his audience to look back further than the last two centuries, and more widely than the language we speak and culture we know. "If you want to write history, or write anything good" he said, "expand your chronology, expand your geography, and above all, read."
This years essay prize finalists named a wide range of themes and questions of their own, including the ethics of stem cell research, the economic impact of university tuition fees, Shakespeare's credentials as a proto-feminist and the collapse of the Mayas.
The judges, professor of classics Jonathan Katz, science writer Hugh Aldersey Williams, and literary critic and writer Erica Wagner, commended two particularly highly. Gabriela Teriaca's essay (Abbeyfield) on the negative perception of maths in schools was "an important subject, personally felt and written out in a methodical and pleasingly arch way". Esha Kumari's piece on epigenetics (Weavers) "opened very well and led on to a warm engagement with an interesting subject". The winning essay by Richmund Rosales asked if the Philippines' war on drugs was unwinnable. The judges called it "well structured, using well sourced material and no unnecessary digressions. An interesting opening followed by clear exposition and stylistic flourishes throughout."